It's been a little over four years since The Toronto Raptors – the purple dinosaur team – won the NBA Championship.
Friday evening, NBA free agency opened. Within a few hours, the Raptors' starting (and only NBA-quality) Point Guard, Fred VanVleet signed with another team, the Houston Rockets for three years, starting at $40 million a season and increasing to nearly $45 million in the third season. [Editor's note: since I published this, I learned that the final year is a team option, which makes this contract far less insane.] VanVleet will be 30 in February and he is now one of the highest paid Point Guards in the NBA (by AAV), behind only Curry, Lillard, Doncic and Young. (Would you trade any of those players straight-up for FVV?)
But Raptors' Twitter thinks this is an absolute disaster and further proof that the Raptors' front office should be…fired? Thrown into the sea? Burned alive?
Obviously you cannot take Twitter users seriously, but the consternation over the management of the Raptors over the last 2+ years feels like it's at a fever pitch almost all the time. This is especially true at the trade deadline and in the early hours of free agency.
I want to say a couple of things in this post:
The first is that I really don't know what alternative course of action the Raptors front office was supposed to pursue over the last four years.
The second is I think fans really need to reset their expectations, not back to where they were before the Leonard trade but at least back to those of a normal NBA franchise's. It's hard to win championships. And it's actually somewhat hard to even be reasonably competitive.
What Happened to the 2019 Toronto Raptors?
So the first thing I want to do is look at how the 2019 Championship Raptors fell apart, and whether or not it was handled reasonably.
Kawhi Leonard, SF, 27:
Left in free agency in 2019.
There is a certain type of Raptors fan/critic on Twitter right now who talks about the failure to get assets back for Leonard as some kind of clear proof that the Raptors' front office cannot be trusted any more. This is perhaps the most insane take I've heard among a lot of insane Raptors fan takes since the bubble season. As someone responded, were the Raptors supposed to trade Leonard at the 2019 trade deadline? (To that I would add, "are you saying you don't actually want the 2019 Championship to have occurred?")
The far greater than 50-50 chance that Leonard would walk in the off-season was both one of the main costs of the championship and the very reason why Leonard was available in the first place. (This is where I scream or bang my head into a wall.)
Sure, it would have been amazing had the Raptors been able to convince him to stay. If we could have somehow predicted the future and shown Leonard that the 2020 playoffs were to be played in Florida, maybe we could have convinced him to stay. I, for one, think the Raptors have a very good chance of repeating in 2020 with Leonard on the team: they beat the Celtics, they beat the Heat (I thought they would have beaten the Heat without him, anyway, if only they could have gotten by the Celtics), and they might have beaten the Lakers. Maybe they go back-to-back. It's too bad it didn't happen.
Alas, that is not what happened and there is literally nothing that can be done about that. The risk of him going elsewhere as the price we paid as a franchise and as fans to get a championship. Tough.
(Also, the Raptors won the Championship. This is the whole reason for caring about basketball. We should still be happy about this instead of moping about how the Raptors don't make the playoffs every season any more.)
But I want to point something else out that is important here: Leonard has played 161 regular season and 26 playoff games for the Clippers since he left. (That's over four seasons, so 328 possible regular season games. Yes, he's played in less than 50% of possible regular season games since he left the Raptors.) Yes, he took the Clippers to their first ever Western Conference Finals but, in the three other seasons, they lost in the second round, missed the playoffs and lost in the first round. There is already talk that the Clippers will not extend one or both of George and Leonard, and that this might make one or both unhappy so one of them might be available. This hasn't exactly worked out for the Clippers. It's silly to assume that, if the Raptors had somehow persuaded Leonard to stay for longer than a season, the Raptors would be in the Conference Finals every year. Kawhi doesn't play.
Kyle Lowry, PG, 32:
Sign-and-trade in 2021 for Precious Achiuwa and Goran Dragic.
The Lowry trade is one of the two transactions (on this list) where I think Raptors fans get really frustrated. The Raptors infamously missed the playoffs in the Orlando season and there is an alternate history in which Lowry was traded for something great at the 2021 trade deadline.
If you know of a good deal that was legitimately on the table for Lowry at the 2021 deadline, please let me know in the comments. It's been long enough that I've forgotten what the rumours were. But I do want to point out that, had Lowry been moved at the trade deadline, regardless of return half the fanbase would have been livid anyway, for the Raptors having the gall to trade such a franchise icon.
A sign-and-trade was the best option once he wasn't traded at the deadline. (Retaining Lowry would have been a mistake.) Part of the lack of return in the deal comes from the Raptors treating Lowry well, and sending him where he wanted to go. It feels like everyone has forgotten about this in the criticism of this deal.
But the other thing is this: the Raptors could have asked for a 1st round pick instead of Achiuwa. But they decided that they wanted to take a chance on Achiuwa rather than a chance on a pick. Despite Achuiwa not turning into an NBA starter, that is a reasonable bet. It's a reasonable bet because the only Heat 1st round picks since this trade have been at 27 and 18. (I'm sorry, I don't have the mental energy to confirm if those picks were originally Heat picks.) What are the odds you get an NBA player at these positions?
Odds are, unfortunately, as of 2008.
Star: 5%
Solid: 15%
Role Player: 25%
Deep Bench: 40%
Bust: 15%
Star: 5%
Solid: 5%
Role Player: 25%
Deep Bench: 60%
Bust: 5%
(I quibble with their definition that anyone can be a "bust" at 18 or, especially, at 27, but whatever.)
Achiuwa plays 20 minutes a game for the Raptors and that's for a coach that had little faith in him. It's possible the new coach will find something, it's possible that won't happen. The point is that Achiuwa's potential in 2021 wasn't obviously less valuable than that of a late 1st round pick. He had just finished his age-21 season. The pick odds above lean heavily towards getting an Achiuwa-level player in the draft.
As for Dragic, he was only in the trade to make it happen. The fan belief that Dragic was an asset to be moved to gain a first round pick felt pretty unrealistic at the time and seems kind of hysterical now.
Meanwhile, Lowry has played 118 regular season games 33 playoff games for the Heat in the last two seasons. He lost his starting spot. He had some great games for the Heat in their remarkable run and he had some really bad ones. But, though he was one of the most valuable players on this Heat team in the playoffs, he is far from the player he used to be. His value was in the toilet prior to the playoffs. Just like it's hard to look at the Heat run this season and see lessons for team building, it's hard to look at Lowry, who is 37, and think that is an NBA player who should be making nearly $30 million this upcoming season.
Pascal Siakam, PF, 24:
Hey, the Raptors have a borderline All-NBA player and he is still on the team! If you go on Raptors Twitter, sometimes it feels like they don't remember that.
I will never forget that a not insignificant portion of the fanbase wanted to trade Siakam straight up for Ben Simmons. I have a former coworker who I tease about this once every six months. I think anyone who publicly advocated for Siakam-for-Simmons on social media should be banned from having opinions on fake NBA trades for at least five years. Yes, it's a terrible idea now, but it wasn't any good at the time, either. If you thought it was a good idea, I suggest trying to figure out why you thought it was a good idea, and what has changed to make you realize it wasn't.
It's very clear Siakam is not the best player on a great team. He is also not good enough to drag a mediocre team deep into the playoffs. (I'd argue the 2020 Raptors were not a mediocre team.) He's not AI. He's not Jason Kidd.
But so what? He's the best player on the roster and he's one of the great Raptors draft success stories. He was the only player on the 2019 team it made sense to try to build around going forward. The only one. That's the choice the Raptors made and I don't understand why anyone thinks it was a bad idea. (The alternative was literally to blow it up immediately and tank. Would anyone have been happy about that?)
They have two choices now, to try to make a Siakam-Barnes team work or to trade Siakam and build around Barnes. That's basically it. You can argue that letting FVV walk without trading Siakam isn't picking either lane but it's July. That case is a lot more solid in October, or December, than it is in July.
It's important to remember that teams that trade stars rarely get great value back. Occasionally they do but most of the time they don't. Look at the recent Beal trade. If the plan is to build around Barnes, ideally you want to trade Siakam when his value is highest. (And it was relatively in the toilet during the height of the Siakam-for-Simmons nonsense.) If the plan is to try to compete with both players on the roster, losing the starting point guard sucks but there's a caveat there, obviously.
Regardless, the idea that there is some alternate timeline where Siakam is moved for a better player and the Raptors are in contention, or some other Raptor (Anunoby, FVV, etc.) is moved for a player better than Siakam and the Raptors are even closer to a championship is just absurd on its face. How? Who?
Marc Gasol, C, 34:
Left in free agency in 2020.
I suppose there are fans who think the Raptors should have traded Gasol at the 2020 trade deadline. I am glad I haven't seen that take anywhere. I'm pretty sure the Raptors struggle more in the playoffs in 2020 without Gasol, even if he was already much diminished. It's pretty hard to trade your starting centre at the trade deadline when you are trying to make a run in playoffs. (Though it obviously worked in the Valanciunas deal. That was a very different situation.)
Gasol played 62 games for the Lakers and 5 playoff games (and only started one of them). He has been playing in Spain since. What were they supposed to do here?
Danny Green, SG/SF, 31:
Left in free agency in 2019.
Green made it clear that he left because Leonard left. As with Leonard, the risk that Green would leave in free agency was part of the cost of the championship and part of the reason he was available in the first place.
But far more than Leonard, attempting to retain him didn't make a ton of sense. Yes, he won another championship in 2020 with the Lakers. (Though he started, he was not one of the most valuable players on that team, for fairly obvious reasons.) But he was making $15 million a season until 2021. And he was waived less than two seasons into his next contract (i.e. in February). He was last seen playing 10 minutes per game for the Cavs in the playoffs, but he was scratched one game.
Would the Raptors be a better team if they had retained Danny Green? If they had retained him, somehow, would they have gotten "fair value" if they traded him during that contract?
Fred VanVleet, PG, 24:
Left in free agency in 2023.
Is FVV worth $43 million a season to you?
That's certainly the initial question: should the Raptors have matched and given term?
And I think the answer to both versions of this question has to be "no" regardless of sentimental value.
I think the Rockets are probably going to be bad next year. I'm happy Fred got paid but I honestly don't think he and a new coach are going to instantly turn around the 22-60 Houston Rockets.
Will they do so by the end of this contract? Um, maybe? I mean, if everything breaks right, maybe the the 2025-26 Houston Rockets will be a playoff team. But, maybe they won't. (I'm currently betting on "nope" but also I don't watch the Rockets.)
I think it's clear Fred wanted to get paid and he did. And I think it's equally clear that the Raptors shouldn't have paid him this much money for more years in order to appease him and keep this (non-playoff) team together.
So, those people who agree with me about the above then insist that he had to be traded at the deadline. I agree that I think that would have been smart, but it depends upon the deals on the table.
I can tell you only what I thought of the deal I was aware of: FVV straight up for Terance Mann. I can tell you that, if that was the best deal on the table, the Raptors were right not to make it. And if you disagree, and you think that getting Terance Mann was a better outcome for the Raptors than letting FVV go in free agency, I think you and I disagree about basketball. You shouldn't make a bad trade just to make a trade, and you shouldn't make a bad trade just to prevent a player potentially leaving in free agency.
Obviously the Raptors thought they could re-sign VanVleet. They were wrong. But the idea that Mann could have come in and started as the Raptors' point guard, and that would be preferable to this outcome is just…bizarre. (Mann has a career assist percentage of 13 and a career usage rate of 15. He is not a point guard despite occasionally playing the position for the Clippers and despite some of the NBA cognoscenti thinking he could start at the position for some team.) Mann makes just over $10 million per season, he's a better shooter than many Raptors but he would likely have ended up fighting for minutes with someone like OG. (There's a theoretical world in which the Raptors trade FVV for Mann and then trade Trent for a PG but I don't know if that was even remotely possible. If you think that was possible you need to provide some actual trades that were available. Does Trent really get you a starting PG?)
If there was another, better trade out there, then the Raptors maybe should have made it. So do let me know in the comments if you know of a better one.
Given there wasn't a good trade on the table, I'm not sure what they were expected to do, beyond trying to re-sign VanVleet. And they couldn't because the price got ridiculous because the prices get ridiculous during free agency, and when the player is considered one of the best available – and the best likely available, given the Harden and Irving situations – at his position, or even in general. (One strand of thought has the Rockets only even doing this because the plan to bring back Harden fell through. If that's true, the rage at what happened with FVV makes even less sense.)
What were the Raptors supposed to do here? Trade him last summer? Would you honestly have been happy with that?
Serge Ibaka, PF, 29:
Left in free agency in 2020.
Much like with Gasol, I have a hard time imagining the Raptors go as far as they do in 2020 without Ibaka. So, again, they didn't have much of an option here.
Since then, he lost his starting job on the Clippers and they eventually traded him. The Bucks waived him in February after he had played 22 total minutes for them, and now he might be out of the league. Just like with Gasol, trading him was bad for the team and re-signing him would have been big a mistake. Letting him walk was the correct decision.
Norman Powell, SG/SF, 25:
Traded for Rodney Hood and Gary Trent Jr. at the 2021 Trade Deadline.
I have already written about this trade a few times. Despite Trent not living up to his potential, the Raptors have already won this trade and I think you have to make this deal every time something like it comes up, provided you are not already very competitive. Powell made nearly $17 million last season, and he will make over $20 in the final year of the current contract (which he signed with Portland). With the exception of the explosion he had in the playoffs, Powell has been playing less with the Clippers than he did with the Raptors post-Championship, on a team where the two stars regularly do not play. (Powell plays significantly fewer minutes than Trent does currently.)
This was a good trade even if it didn't work out as well as we hoped. Trent is six years younger than Powell and, at least in theory, a better defensive player. Trent was in his age-22 season at the time of the trade. He is still quite young. The risk was worth the potential.
---
No other Raptor played more than 66 minutes during the Championship run and only one of them, Boucher, is still on the roster. If you think there was some untapped potential in some of those players I have a bridge to sell you.
Meeks hasn't played since
McCaw is out of the league since the Raptors waived him
Same with Miller
Moreland hasn't played since
Same with Lin.
I see two transactions on this list that the Raptors should have handled better, the Lowry sign-and-trade and VanVleet's free agency. And I am not aware of any deals that were on the table that I would have preferred to what happened. (With the caveat that the Lowry sign-and-trade was, in part, doing him a favour. Which he had earned.) Otherwise, I'm not sure what else they could have done to pull a Miami and be legitimately competitive again within 6 years.
Is this worth the opprobrium that is ongoing right now and happened at the trade deadline and during the Orlando season? Who are the theoretical players the Raptors could have landed with Lowry and FVV that would make the Raptors a Top 4 team in the Eastern Conference? Why are we also angry and despondent about a team that won the Championship four seasons ago?
---
That anger is fueled by expectations. So now I want to talk about expectations.
Much like with what happened with the Warriors' fan base, I think the Raptors' championship has completely altered Raptors fans' expectations and made them rather ludicrous. What exactly do you expect from the purple dinosaur basketball team?
If you had asked me on the morning of July 18, 2018 if the Raptors would have won a Championship in my lifetime, I would have said "no."
If you had asked me to bet money, I would have bet against them winning. I'm serious.
The Raptors, despite their years of playoff appearances between 2013 and 2018, were a joke of a franchise. They were the Canadian Timberwolves. (If you think I'm lying, or you disagree, or you don't know what I'm talking about, I guess that tells me when you became a fan of this team.)
If you had asked me the same question on July 19, I still would have hedged and said "I hope so but probably not." (I have the Facebook receipts to prove it. Even then, I wasn't sure we could win.) I didn't even bet on them to win in 2019! (Though I will say it was much harder to gamble on sports in 2019 than it is now.)
It's really hard to win in the NBA. Not that many teams have done it. There are only two teams to have ever won more than 10 championships and only five franchises have won 5 or more.
And now that the Raptors are one of the existing 19 franchises to have won an NBA Championship, but we need to acknowledge something else: only 11 teams have have won more than one championship. That's barely more than a third of the league. It's important to acknowledge this because it's important to understand, as a fan, that it's extremely unlikely the Raptors will ever win another championship. I'm not saying they shouldn't try to, I'm saying it's extremely unlikely, and it's extra unlikely it will happen any time soon.
If you judge a front office by championships won, the vast majority of NBA front offices are abject failures. That's just the way it is.
In the vain hope of encouraging more measured thinking, I want to talk now about how unlikely it is for NBA teams to be back in the NBA finals soon after they had their chance.
2023 – Nuggets vs. Heat
Everyone thinks the Nuggets will be back next year. But everyone thought the Warriors and Celtics would be back, and the Warriors lost in the second round and Celtics nearly got swept in the third.
Everyone thought the Bucks and Suns would be back. But the Suns got embarrassed by the Mavericks and then decided they had to trade for Durant. The Bucks infamously lost to an 8th seed this season.
So maybe the Nuggets will be back next year but recent history says they won't.
As for the Heat, I think the only reasonable conclusion for this remarkable run is that it's just one of those things that happens. I don't think there's a team-building conclusion that can be taken from this but I'm sure someone out there will try. (If the Heat manage to trade for Dame, that's a different story, isn't it?)
2022 – Warriors vs. Celtics
The Warriors are a special case. They were the most dominant team in the NBA for half a decade then they had catastrophic injury luck. Though it was surprising in the moment, in retrospect it's not so crazy the Warriors were back in the Finals three years after their last appearance, and this time without Durant. Is there a lesson here?
Who knows if they will win again with this core. After successfully finding a balance between old and young in 2022, they have now thrown that out the window and gone super old (for basketball). We'll see if it works. (I'm dubious.)
By Championships, the Celtics were the most successful franchise in NBA history until very recently (2020). They're a lot less successful in terms of Finals appearances but they're still among the most successful teams in pro sports history. It shouldn't be a surprise that they were in the Finals in 2022 for the first time in 12 seasons. The Celtics had been good for a while, making the Conference Finals in 2017, 2018 and 2020.
But if there's one reason for this particular team's success, it's two trades made in the wake of the previous great Celtics team's dissolution, in 2013 with the Nets, and in 2017 with the Sixers. (Yes, the Celtics were good before the trade for the pick that became Tatum, but the best player on that team was also traded in a fantastic trade.)
If you want to swap places with Celtics fans right now, just Google Celtics fan reaction shots to the Game 7 loss to Miami. (And, please, don't cheer for the Celtics. It's almost as bad as cheering for the Yankees.)
2021 – Bucks vs. Suns
The Suns hadn't been to a Finals since 1993. They experienced some bad luck in the aughts when they probably deserved to make the Finals. Prior to 1993, they had only made one other Finals, all the way back in 1976. Infamously, they have never won a Championship. They have made only seven other Conference Finals, but that's over a 50 year existence, not a great track record. This iteration of the team was a surprise to everyone, as the Suns had been terrible for a decade.
And then, after their run, they were embarrassed by the Mavericks. They were so embarrassed, they went all-in on Kevin Durant. With Durant, they only won two games against the Nuggets this year.
The Bucks at least won a Championship, back in 1971. They hadn't been to the Finals since 1974. Then The Trade happened and the Bucks became perennially not good enough. They made even fewer Conference Finals than the Suns over their similarly long existence, only five trips outside of their trips to the Finals.
And, as I already mentioned, things haven't been rosy since they won. They lost in the second round and then they lost in the first round to an 8 seed. They fired their coach. But they are running it back. We'll see how that goes.
This was a great final given the kinds of Finals we'd seen in the decade before, but it also shows how damn hard it is to get back.
2020 – Lakers vs. Heat
This was the Lakers' first Finals since 2010. Their vaunted ability to attract stars had mostly failed them for the previous decade. Even more than the Celtics, the Lakers are in the Finals all the time. There's not really a lesson here for other teams, beyond "Become the Lakers." They've made 32 finals as of this appearance. 32. There have been 72 NBA seasons. The Lakers have made the finals in nearly half of them. This is what other teams are up against. (The Celtics have made it to the Finals in less than a third of all NBA seasons, and half of those were in just over one decade.)
The 2020 Heat are a team that other teams wishing to pivot likely look at. Their previous Finals was in 2014 and this team was entirely different. But the Heat have at least two advantages that most teams in the NBA do not have:
The weather: only a few other teams have the weather Miami has (though if you don't like Hurricanes you should play in California)
The Pat Riley Mystique: At this point, there's not another basketball executive with the mystique Pat Riley has and this plus "Heat Culture" (which is really just an extension of that mystique) seems to give them a bit of an advantage in getting the edge in free agency and trades. (As a former Mavericks fan, I find this infinitely frustrating.)
What I'm saying is, I don't know how realistic it is for other teams to try to duplicate the remarkable, arguably unprecedented turnaround the Heat underwent from the 2014-15 season to this Finals run.
2019 – Raptors vs. Warriors
As I said above, the Raptors were a joke team before this run. The Raptors had made one Conference Finals prior to the Leonard trade where they were swept. They had only made the second round three other times, and two of those were in the two seasons prior. That's one second round appearance between 1995 and 2015. Prior to the 2013-14 season, the Raptors had made the playoffs a total of 5 times. They had won their division only once and promptly lost in the first round. There is only one reason the Raptors were in this Final, one of the all time great trades in NBA history.
Since then, they have missed the playoffs twice, but they were one game away from a second straight Eastern Conference Final, despite losing 2 of their 5-7 best players from their championship run. (And I'm dying on the hill that the 2020 Raptors were going to beat the 2020 Heat in that ECF.) I really do sincerely believe that things have gone pretty well for the Raptors given the roster turnover. That's the reason I've written this.
The Warriors, of course, were in their fifth straight Final.
2015-18 – Warriors vs. Cavaliers
Ah, the good old days of the NBA, when we knew which two teams would be in the Finals. Every. Single. Season.
The Warriors won their first Championship in the inaugural season of the BAA. They won their first NBA Championship in 1956. They were definitely on track to be one of the premier franchises of the NBA, especially after the drafted Wilt Chamberlain 3rd overall in 1959. (If you're wondering why he was 3rd, the draft was weird back then.)
In 1962 they moved to the Bay Area. They were still good, making the Finals in 1964. In 1965, they traded Chamberlain to the 76ers (who used to be the Warriors' rival Syracuse Nationals) but they drafted Rick Barry that summer and were back in the Finals in 1967. And then Barry went to the ABA. The Warriors wouldn't get back to the Finals until a few years after Barry returned to the NBA. They won that year, in 1975.
But what followed was decades of mediocrity. Between 1977 and 2014, they never advanced out of the second round, and they only made the second round six times, the most recent in 2013. What was once one of the premier franchises in the NBA was now a joke. (Sometime in the late '90s or early aughts, my friend described them as "the NBA's most obscure franchise – how many people even know what city the Warriors play in?" That's how bad things were before Curry.)
We know what happened next. Due to Minnesota doing Minnesota things, the Warriors lucked into drafting the Greatest Shooter of All Time, who drastically altered the way basketball is played in the NBA. They then somehow drafted arguably the Second Greatest Pure Shooter of All Time. They drafted one of the great defensive players ever, who also happened to sometimes play point guard. They found a coach who could make it work. Then, after they failed to win back-to-back championships, a freak salary cap spike allowed them to sign one of the greatest players of all time.
This, I would argue, is not a replicable way out of the mediocrity that the Warriors were mired in for 35 years.
These Cavs combined lottery luck and the return of their former star player. This Cleveland team happened because of his desire to win a title in Cleveland after he had gone and won somewhere else. It helps to have the GOAT on your team if you want to be in the Finals.
Since LeBron left, the Cavaliers haven't done well. They made some trades that seemed to drastically improve the team but they just lost in the first round in their first playoff appearance since. We'll see what happens next. (I am optimistic about the Cavaliers but what do I know?)
2013-14 Heat vs. Spurs
These years were the 3rd and fourth straight appearances by the Heat in the Finals. After their loss in 2014, two of the three Heatles went elsewhere and it looked like the Heat would be lost in the wilderness for a while. We now know that Pat Riley did Pat Riley things and somehow they were back in the Finals in 2020.
This was the last hurrah of Spurs team that had been winning titles since 1999. Now they had help in the form of Kawhi Leonard (acquired via an incredible trade). It's worth noting that, despite their reputation for sustained success, there was a long period (7 years) between this final championship and the previous one. And they had to massively win a trade to make that happen.
Notably, the Spurs have been to the Conference Finals once since 2014, and they haven't made the playoffs since the season after the Kawhi trade. (Things should change soon, given the results of the 2023 draft.)
2012 Heat vs. Oklahoma City
The Heat's first championship in 6 years happened for unique reasons.
This OKC team was "the team of the future" in 2012, containing three future Hall of Famers and Serge Ibaka. They had been up-and-coming since the move from Seattle. The SuperSonics had some limited success in their history, winning it all in 1979 and making the Finals in 1996. But they had even less success outside of those years than the Bucks and Suns did, making a total of three Western Conference Finals outside those Finals trips. This team was going to change all that.
Instead, they traded away what they thought was the least of their four stars and soon after one of the other stars alienated the main star and he left in free agency. Since Durant's departure they haven't made it out of the first round, and they haven't made the playoffs since 2020. Yes, they have a great young core, but we'll see how far they get with it.
2011 – Mavericks vs. Heat
The Mavericks' revenge season took five years to happen and the team was very different than the Mavericks team which lost to the Heat in 2006. Uniquely still built around the same player, almost everything else had changed. Beyond Rick Barry winning in the mid '60s and the mid '70s with the same franchise, I'm not sure how much of a precedent there is for Dirk winning six years after he lost in the Finals.
The Heat had won in 2006 but had missed the playoffs in 2008 after they decided Shaq was too old. The only reason they were here was due to a unique free agency coup, in which Pat Riley somehow convinced the GOAT, and Raptors' franchise player Chris Bosh, to join the Heat's franchise player Dwayne Wade in Miami (instead of them playing in New York or Chicago). But even this team wasn't successful in their own eyes. Infamously, LeBron and Wade predicted the Heat would win more championships than the length of their contracts. They won two.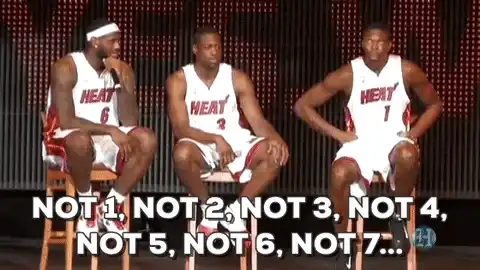 2010 – Lakers vs. Celtics
This was the Lakers second Championship in a row, and third straight Finals appearance. After a few early playoff exits they would enter the longest period of mediocrity in franchise history before they convinced LeBron to sign with them. Those years were great for people like me, who hate the Lakers. But they somehow didn't remove the Lakers' mystique.
The Celtics were in their second Final in three years.
2009 – Lakers vs. Magic
The Magic are a joke currently. (Though they have a lot hope right now, given their young players.) In the last twelve seasons they've made the playoffs four times and been eliminated in the first round every single time.
But, before that, they were perhaps the most successful recent expansion team in the NBA. They made the Finals in 1995, in only their sixth season. And they made the Conference Finals after that. Losing Shaq changed everything for them but they had only missed the playoffs five times since Shaq's departure. Injuries derailed a promising team in the early aughts.
But after this run they've never been good since. Fans obviously hope that will change with Banchero and Wagner but it's been a decade and a half since of being bad, or just good enough to lose in the first round.
2008 – Celtics vs. Lakers
The Celtics ended their longest stretch of mediocrity through two fantastic trades in July 2007. Prior to that, they had only made two Eastern Conference Finals since 1988, a really, really long time for a franchise that had already won 16 titles by this point. Both of those trades were extremely lopsided for the Celtics, grabbing stars whose own franchises had lost faith in them. I'm not sure how replicable it is to trade for two Hall of Famers in the same month, when you already have one Hall of Famer on your team, and have those three lead you to a championship.
The Lakers were back again, having failed to do much for the last four seasons. But they had found a costar for Kobe Bryant and built a team around him, which led to their sustained success.
2007 – Spurs vs. Cavaliers
This was the fourth Spurs title since 1999 and their third in five seasons.
The Cavaliers had a much less illustrious history than the Bucks or the Suns or even the SuperSonics. They somehow made the Conference Finals in their first playoff appearance, in their sixth season in 1976, but didn't make it back to the Conference Finals until 1992. That was it, two Conference Finals appearances in over 30 years of existence before they drafted LeBron.
And even LeBron didn't help enough, initially. He dragged this team to the Finals but then left a few years later once it was clear he couldn't win in Cleveland. Those Cavs teams were terrible enough to win the draft lottery three times in four years, one of which they absolutely botched. They also had two additional Top 5 picks.
Had LeBron not returned, it's not clear the Cavaliers would have come back into contention. Here's the performance of their Top 5 picks between LeBron's departure and his return:
2011:

Kyrie Irving: 3rd in Win Shares, 4th in WS/48, 3rd in BPM, 3rd in VORP (also: crazy)
Tristan Thompson: 10th in Win Shares, 12th in WS/48, t-29th in BPM, t-22nd in VORP (and that's with LeBron as his teammate for four seasons)

2012: Dion Waiters: 25th in Win Shares, 40th in WS/48, 29th in BPM, t-41st in VORP
2013: Anthony Bennett: one of the all time great draft busts, Bennett is 39th in Win Shares, 42nd in WS/48, 44th in BPM, 50th in VORP
2014: Andrew Wiggins: 12th in Win Shares, 31st in WS/48, 26th in BPM, 18th in VORP
Tanking doesn't always lead back to contention.
2006 – Heat vs. Mavericks
In terms of regular season performance, the Heat were an even better expansion team than the Magic. But they had never made a Finals, so the Magic had a better track record in the playoffs. The Heat changed their luck by bottoming out and drafting Wade (benefitting from the Raptors drafting Bosh instead) and by trading for Shaq after his relationship broke down with Kobe.
One notable trend here is all the teams have have acquired disgruntled superstars before winning. It's almost as if it really helps. Also, it happens a lot. (Though not every disgruntled superstar is the superstar that will lead your team to the promised land. See: James Harden, Kyrie Irving.)
The Mavericks were part of an earlier expansion but definitely more sad sack until the 21st century. They made the Western Conference Finals once in their existence in the 20th century, in 1988. However, things had begun to turn around in the late '90s with them making their second ever Conference Finals in 2003. They made it to these Finals despite a disastrous 2004 free agency. It then took a nearly complete roster overhaul to get back to the Finals in 2011.
2005 – Spurs vs. Pistons
This was the 3rd Spurs Championship since 1999 and the Pistons' second straight appearance in the Finals. The Spurs obviously won again two years later.
The Pistons would continue to be excellent for three more seasons, making the Eastern Conference Finals in six straight years. But once that team aged out, they never recovered. They have made the playoffs three times since 2009 and, until they drafted Cunningham a couple of years ago, it seemed like they didn't have a franchise star to build around. (Much like Grant Hill before him, he has injury problems already.)
2004 – Pistons vs. Lakers
This was the Lakers' fourth Finals appearance in five seasons. After this loss, the Shaq-Kobe relationship further fractured and led to the Heat winning and the Lakers having to find a costar for Bryant.
The Pistons were infamous in the NBA and had turned their franchise around in the late 1980s, making three straight Finals and winning two titles. (Before that, they were a joke.) In the interim, they had failed to find a star to build around. This team is infamous for being the only team in NBA history to win without an obvious star player. (At the moment, only one of the starters is in the Hall of Fame and he averaged 10.3 PPG in the playoffs this season.)
2003 – Spurs vs. Nets
The Spurs last won in 1999. This was the second and final Twin Towers run but also the first of the "Big 3" championships. The transition involved being lucky and drafting foreign players that other teams didn't think enough of.
This was the second Nets finals team in a row. The last 20 years have not been great, with the Nets constantly trying to find aging future Hall of Famers to bring them back to the Finals. First, they did it around Jason Kidd, the player who got them there, and then they just kept doing it with different players. It has not gone well, with zero Eastern Conference Finals appearances, many bad trades and, most recently, tons of drama.
2002 – Lakers vs. Nets
The last Lakers team of the threepeat.
The Nets were one of the great ABA teams – winning two titles in three seasons in the mid 1970s – but had never made the Eastern Conference Finals since joining the NBA. They were a bad franchise. In 2001 they traded Stehon Marbury for Jason Kidd and suddenly became one of the best teams in a weak Eastern Conference. Kidd was just the latest Eastern Conference star guard to drag his team to the Finals.
2001 – Lakers vs. Sixers
Because before Kidd did it, Iverson did it. And he even took a game against what was then the best playoff team anyone had ever seen.
The Sixers had last won in 1983, their only title in Philadelphia. But they had mostly been a good team until the mid 1990s. Then they had bottomed out and got Iverson. But this was the height of their success. They haven't been back to even the Eastern Conference Finals since, despite The Process.
2000 – Lakers vs. Pacers
The Lakers finally returned to their winning ways, after a decade of relative mediocrity. They had last been in the Finals in 1991 and hadn't won since 1988. Getting Shaq from the Magic changed a lot. As did drafting only the second teenager to skip college to go pro in decades. (Garnett was the first in 20 years. This was super risky in the late '90s)
The Pacers were the best ABA team ever, winning three titles in four seasons and making the finals five times in the league's nine year existence.
But they had been a disastrous NBA franchise until the early '90s, when they became one of the best Eastern Conference teams for the decade culminating in this run.
However, it was their one and only trip to the Finals. Many people will tell you the 2004-05 Pacers would have won the Championship, but shit happens and, instead, they only managed three Conference Finals over the last 20+ years. They always run into better teams, just like they did in the 1990s.
---
In the 21st century, 17 franchises have made the NBA Finals. Just over half the league.
But only 11 of those teams have won (just over 2/3rds of them, and only 1/3rd of the league).
And only 4 of those teams have won more than once: The Lakers (6 times), The Spurs (4 times), the Heat (3 times) and the Warriors (4 times).
Of the other 7 teams that won a Championship in the 21st century,
The Pistons made one more final but lost; they haven't been out of the first round since 2008
The Mavericks lost first and then won; their 2022 Western Conference Finals appearance was their first since 2011
The Cavaliers made four straight finals, and one much earlier, but only won once; they haven't won a playoff round since their last finals trip in 2018
The Celtics made it back two years later and then again a decade later but didn't win; they lost in the Conference Finals this year, and nearly in embarrassing fashion
The Raptors, Bucks and Nuggets have yet to be back but both the Raptors and Bucks have made the playoffs since, not advancing past the second round in either case.
And of the remaining 6 teams to make a Final in the 21st century and not win:
The Pacers have made it to three Eastern Conference Finals but the last one was in 2014
The Sixers haven't made it out of the second round
The Magic immediately made it back to the Eastern Conference Finals but haven't made it out of the first round since 2011
The Thunder made it to two Eastern Conference Finals but haven't made it out of the second round since 2017
The Suns have lost in the second round two seasons in a row.
What is the point of all this?
The point is that it is extremely difficult to win more than one Championship in the NBA.
The Lakers had Shaq, one of the greatest centres in history, and Kobe Bryant, one of the best couple shooting guards in history, and then they found a perfect supporting cast for Kobe, and then, after their worse stretch in franchise history, they signed LeBron, the actual GOAT
The Spurs had arguably the greatest power forward of all time; in the early years they also had one of the best centres of his era, and then they transitioned to the original "Big 3"; and then they found a fourth Hall of Fame player to help out that Big 3
The Heat combined one of the other couple best shooting guards ever plus Shaq, then they went and paired him with the GOAT; despite all Jimmy Butler's heroics, they haven't won with him in two trips to the Finals
And we've already talked how much of an aberration the Warriors are.
Can the Raptors be like these teams?
The Raptors lack the weather advantage of Los Angeles and Miami.
They lack the overall branding and legend/legacy of Los Angeles too (or even that of the Celtics, which is a lot more complicated).
They have never had the sustained excellence of a franchise like the Spurs. (Nobody outside of the Lakers and Celtics have.)
They have never, ever drafted a player who changed the game as much as Curry did.
And they have never, not even remotely, been an attractive destination to NBA free agents, especially those who are among the best of all time. (This article, though it is incomplete, gives some idea of how bad the Raptors have been in free agency.)
That last point is their unique disadvantage: they are the only Canadian NBA team and the only one that scares (some) American players into not wanting to play in a foreign country.
As long as this remains true, the Raptors can only really acquire high-end talent through the draft and trades. (And amateur/foreign free agents.) And trades require relinquishing talent and/or assets in return. And that is just a fact of the Raptors' existence.
But the nature of the NBA remains as crucial a fact. It is highly unlikely that the Raptors will win another championship in my lifetime. (I would love for it to happen, of course.) It is highly unlikely simply because most teams don't win two. Maybe that will change as the league changes. Nobody knows.
It is likely that, if they ever are to win another championship, it will require a lot of time and a whole bunch of missteps (and apparent missteps) to get there. (I say "apparent missteps" because I'm pretty sure most people disliked the Ibaka extension at the time it happened.) When the Raptors acquired Kyle Lowry in 2012, nobody had the faintest idea idea he would be the second best player on the 2019 NBA Champions. (If you could go back in time and tell people, I'm sure a lot of people – fans and media alike – would laugh at you.)
How long will it take? I have no idea. I for one do not think Scottie Barnes will be as dominant an NBA playoff talent as Kawhi Leonard, though I obviously have no idea. And nobody does. This stuff is hard.
Knowing how hard it is to win, and how badly the Raptors are handicapped by their location in Canada, I get incredibly frustrated by all this angst over the Raptors supposedly making mistake after mistake after mistake that will scuttle the franchise and prevent future playoff contention.
I don't like the Schröder signing. I don't get it. But I also don't believe for a second that letting FVV walk for the max is somehow going to set the franchise back to some terrible previous era.
For one thing, that's because the Raptors have won a championship and nobody can ever take that away. For another, the Raptors have a borderline All-NBA player on their roster and another potential All-NBA player, in addition to an All-Defense player. This is not the 2005 or 2011 Raptors. It's certainly not the 1997 Raptors.
Getting back to contention will take time. It might even involve a team that doesn't include Pascal Siakam or even – shock! horror! – Scottie Barnes. Who knows? (If you are so desperate for the Raptors to contend immediately, you should have supported the Barnes-for-Durant deal and you should support a Scottie-for-Dame deal.)
But it's just utterly bizarre to me to expect – no, demand – contention after the future was mortgaged for a Championship only four years ago. (I say "mortgaged" because the Raptors traded for players the expected not to re-sign and built the team around veterans, many of whom were already declining athletically.) There are costs for doing this. One such cost is missing the playoffs routinely after the championship core is mostly gone.
The Raptors have also been one of the most successful regular season teams of the last decade. That also comes at a price. Most pro sports franchises – except maybe the St. Louis Blues and Detroit Red Wings – don't stay good forever.
This front office is the best front office in Raptors' history and it's not even close. No other front office brought the Raptors to the Conference Finals, let alone the Finals or the Championship.
I like Thad but I didn't love the trade. I didn't love the Jak trade. I don't like the Schröder signing and don't think it will work. But none of that is reason to panic, to demand the front office get fired.
It's very likely they will continue to make mistake and it's inevitable that, at some point, they will be fired and someone else will take over. But given their track record over the last decade, turning one of the laughingstock franchises in the NBA into a perennial contender and a Champion they deserve just the tiniest bit of patience and benefit of the doubt.